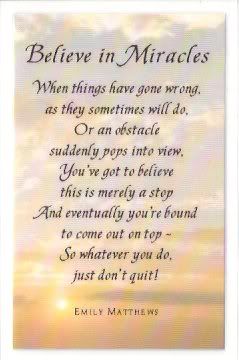 Dear friends,
I have just started this board in order to be able to begin moving on. I just had a MC last week and felt like the world was closing in around. After a failed IUI, a canceled fresh IVF cycle due to OHSS, a BFN, and a BFN with my 1st FET I realy thought this was it. On July 20th we transferred two beutif looking blasts. And to my surprise, I got a positive with a HPT only 4 days after my transfer. My 1st Beta was 275 and the 2nd Beta 1513. Two days after that Beta I began to bleed heavily and I knew in my heart that I had lost both of my little ones. Since then the Beta has fallen sharply an today it was just 428. I am officially at the end of this road and off of all of my meds.
This may be the end of this road but not the end of my journey. This journey can be very difficult and cruel at times. But I will not give up in my dream. If you are looking for a board where you will receive the love and support of ladies who are on the same emotional rollercoaster than this is the board to join. If you are looking for a board where you can share your stories with others and provide support to others in need then this is the board to join. If the Fall of 2011 is your time for a miracle then join this board.
Sending much love and peace to all.


Fvrogers-FET 10/2011
Becca-Donor Transfer Fall/2011
Tamera-November/2011
Leora-Fall/2011
Blueeyedreamer-waiting for AF to start BCP
WeHaveHope-waiting for AF to start BCP for FET October/2011