Hello Lit...
I am here to celebrate with you...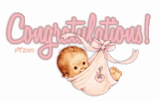 I am sooooo happy for you...

esperanza, babyloves, kerpupples, alreadyblessed, jenny...the THE DAY is just round the corner...and the world will never be the same again.
Thanks for the wishes, we are having a great time.
Last night Anay had problems in sleeping, there was a mucus formation in his nose and he could n't have sound sleep. His congestion is miniaml and I already spoke to the doc, he prescribed saline nasal drops.
He is a sound sleeper and hardly troubles me. He is gaining weight at a fair pace, he gained 200 gms in the last week.